We Live in a Wonderful World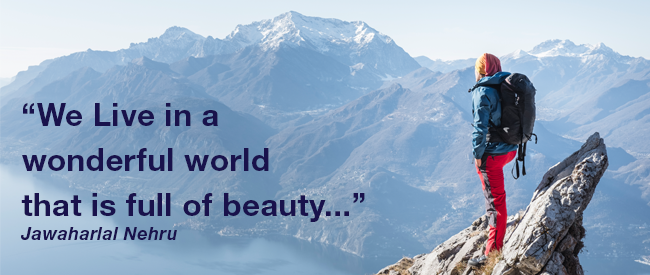 July 10 2021
We Live in a Wonderful World…
And so begins a great quote from Jawaharlal Nehru.
"We live in a wonderful world that is full of beauty. There is no end to the adventures that we can have if only we seek them with our eyes open."
As the world is looking forward to a re-opening after our long isolation from each other Nehru's words remind us of the wonder and beauty in the world. Soon we will be able to enjoy nature's visual feasts with our own eyes, exploring new or maybe familiar places. Hopefully with hearts full of appreciation for our planet and our fellow sojourners.
The frailty of life in all its forms has touched us all in one way or another lately. As a first aid company we focus on helping others be prepared for days such as these. We would like to hear from you if you have found one of our kits useful or lacking. We are trying to bring HART Outdoor products to the next level of usefulness and quality. Please use our contact page to send us an email.
Stay safe at home, explore safely when the time is right.
Your friends at HART Outdoor