The Cozy Cabin Incident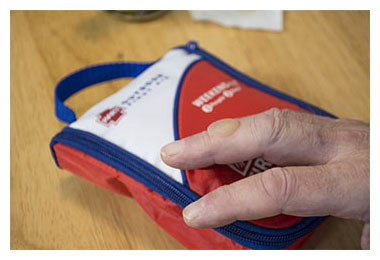 July 10 2021
Cold and snowy outside, warm and cozy inside...
Just wanted to let you all know how pleased we are with our
Weekend First Aid Kit
. A few weeks back we went up to our cabin for a long weekend getaway. I had purchase your small kit for when we went for walks on the nearby trails. We didn't even get outdoors before my husband needed some first aid.
He had been keeping us cozy warm with the wood stove. He decided to put a little too much kindling and paper in (I'm under exaggerating this a bit so he won't get embarrassed). Pretty soon I hear some struggling going on not to mention his "ouch, ouch!, OUCH!!!" and a few other words. In trying to keep the fire in the stove he managed to bump his hand on the edge of the stove door frame raising an immediate blister on his finger.
I unpacked the first aid kit and got to work. I found everything I needed very easily. This kit is so well organized. I used some of the ointment, fashioned a bandage out of a non-adherent pad and wrapped it with gauze and a little tape.
We may not have gotten out on the trail that weekend but I'm keeping the kit handy in the car from now on.